Walmart Defies Nature With Ice Cream That Doesn't Melt
 Walmart, the world's largest retailer and the figurative ass hole of consumerism, gets hit with its share of controversy on a regular basis. A few years ago, one of their security guards was trampled to death by a horde of Black Friday shoppers bloodthirsty for discount Ipads, lawn chairs, and underwear. They've since spent almost half a million dollars to avoid paying a small fine. Essentially, that bouncing yellow smiley face might be the face of corporate satan. 
In their latest use of black magic, Walmart has made ice cream sandwiches that don't melt, defying one of the most constant law of nature. Even according to Ali G, melting is pretty much the main feature of ice cream.
When a Cincinnati mom found that her son had left a Walmart Great Value ice cream sandwich out on the patio for over 12 hours in 80 degree heat, she noticed something strange. The shit hadn't melted. According to WCPO Cincinnati, the mom left a second sandwich out overnight with the same result. This shouldn't be. One of the ways God flexes his muscles is by turning our solids to liquids from billion of light years away.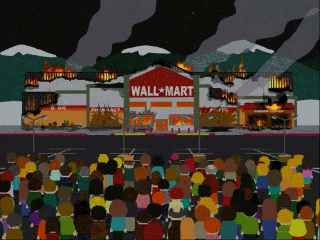 Walmart thinks that they can just fuck around with nature and there won't be consequences.
It might not be a bad thing, though. If melt-proof ice cream doesn't come with some sort of bizarre health risk, it might come in handy on a hot summer day. 
What do you think?