PROJECT DALEK: You Too Can Build Your Own Exterminator!
Come on, admit it. Daleks are cool.
Yes, they're not the prettiest things in the world once outside their robotic shell, and the only emotions the majority ever feel is pure hatred, but they're cool nonetheless. As a Doctor Who fan, a part of me has always dreamed of having to face one of those mutant beings. Of course, that's such a silly wish, considering that would most likely be the prelude to my death.
Whatever.
Being swiftly murdered by a Dalek is also kind of cool.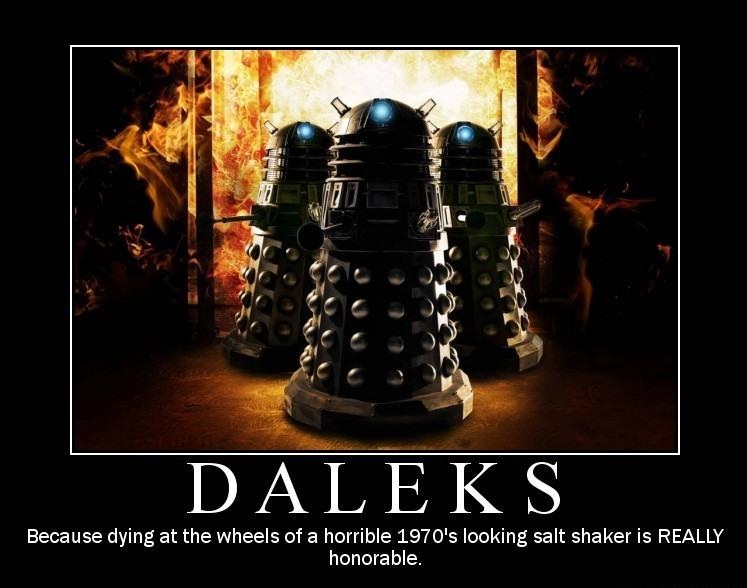 But since as far as I'm concerned, Daleks are still a matter of fiction, meeting an actual Dalek, one that actually has this inside its shell:
And that is capable of doing this:
And this:
... is basically impossible. It's okay. I can live with that (get it?). There's always an alternate option. I actually discovered one quite recently at the Montreal Comiccon. I could simply build a Dalek. Yes, I did say build. Thanks to the Doctor Who Society of Canada and Project Dalek, I can say that I have the desire to actually build one of these bad boys, and I also have the confidence that it is ENTIRELY POSSIBLE and TOTALLY WORTH IT!
At the Montreal Comiccon, at least three members of the Doctor Who Society of Canada paraded across the convention grounds in Dalek gear that they had built themselves. It's crazy how legit they are. They're masterpieces. They're more than that. They're perfect in every kind of way. When we learned during their Dalek Building 101 panel that we could also make our very own customizable, rideable, life-size Dalek, a part of me died (the part of DISBELIEF). 
Dalek Soufflé wooed us with her classic beauty.
Dalek Clifton had us laughing with all of his sass.
And Dalek Dreadnaught really impressed us with his massive size and gas-gun capabilities.
While the trio gave us a gist of how these intimidating beings have been created by explaning their process, the material they used, and even dissassembling them so we could witness their interior, Dreadnaught's operator also shared some of his crazy adventures as a Dalek, namely one that occurred at the Canadian/American border, and one at an International airport (you could only imagine how hilarious those were!)
Not only did we learn building a Dalek isn't as costly or difficult to build as it may seem, but it's a trend that has been going on for ages, and one that is currently growing. A great part of this is due to Project Dalek, a website designed to help all you eager Dalek-lovers. There, you'll not only find build diaries, galleries and forums, but you'll also find a variety of blueprints and a workshop manual to guide you all the way! Isn't that AWESOME? It's more than that. It's pretty darn cool.
So what are you waiting for? Screw meeting a real live Dalek.
Become one!
And go on, do your thing.
Exterminate like it's nobody's business.
For more information, be sure to visit these pages:
Doctor Who Society of Canada | Project Dalek
Nathania Wreh, Managing Editor @ The Buzz, and a little crazy.
Follow me on Twitter @heyitsnattiie